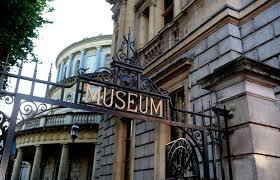 Isabella Mulhall is an Assistant Keeper in the Irish Antiquities Division (IAD) of the National Museum of Ireland (NMI) – Archaeology, where she has curatorial responsibility for the Irish Iron Age collection, the Egyptian collection and elements of the early medieval collection. She has a strong research interest in the archaeology of Ireland's peatlands and is the coordinator of the NMI Bog Bodies Research Project at the National Museum of Ireland. Isabella is a County Carlow native and was educated in Clonegal National School and Tullow Community school, before pursuing her archaeological studies at University College Dublin.
Her talk, "Antiquities from County Carlow in the National Museum of Ireland", will offer insights into the rich artefactual heritage of Carlow County, exploring a wide range of objects from the National Museum of Ireland collections. To reveal something of the daily lives of those who made their homes in County Carlow in centuries past, the talk will focus on artefacts that have come to light through archaeological excavations and research, as well as through stray or chance finds by the public. While exploring how these artefacts have been researched by individuals and major institutions, the talk will consider how they have become ambassadors for Carlow on both a national and international stage.
It will also highlight the vital role of Carlow County Museum in preserving, promoting and researching the portable heritage of the county, as part of its ongoing relationship with the National Museum. Carlow's remarkable artefactual heritage is undoubtedly a precious commodity, and its archaeological objects each have their own story to tell. By bringing these stories to life, and providing insights into life and death in Carlow throughout the millennia, this talk aims to show how archaeological work can continue to open windows into Ireland's distant past.
This CHAS talk will take place in the Seven Oaks Hotel, Carlow on Weds 16 November @ 8pm. All are welcome.
The talk will be videoed for future viewing and will be available on the CHAS YouTube channel:
https://www.youtube.com/channel/UCZE_AxoM4SJ05fi9Q4ph7YQ